[ad_1]

Confession: I've always been an extreme people-pleaser. 
Why? Well, because I like to be liked, of course, as do most human beings. Since high school, it's always been something I've been aware of.
And this tendency was never so clear to me as when I was managing four videographers at Oneshot Media, my previous photo and video production company. 
I would delegate to team members with the best intentions, only to realize that something or someone wasn't performing tasks the way I had intended. 
Unfortunately, rather than addressing the situation early to avoid underperforming work, I would mentally ignore the problems. Initially, I wanted social approval more than managerial success, and the quality suffered.
In the end, my avoidance became the demise of a couple of professional goals, as well as our video output.
If you're hiring or managing a videographer for the first time, don't get caught up in wanting to be liked. Being honest and clear is more important — and your videographer will appreciate your candor. 
In this article, I will share what you need to know to manage your videographer. Including the lessons I learned the hard way. 
Below, I'll dive into:
How my experience made me a better manager.
Common communication problems you may experience working with a videographer. 
Three expert tips for successfully managing a videographer.
Let's get started.
Free Course: Video Sales & Marketing Strategy
What I learned from my experience
I blame myself for not establishing enough role structure and expectations at the very beginning of my professional relationships at Oneshot Media.
I blame myself for not realizing that the videographers I worked with were process and project-focused workers who wanted to be given a framework for their job responsibilities.  
Without definitive structure and expectations, it's not easy managing creative workers — especially those who have worked as freelancers. 
I also recognize that I was a video person trying to manage other video people, which makes it much easier to empathize with, understand, and audit work shenanigans compared to a non-video professional managing a video professional.
If you're not from a video background, you probably don't know the questions to ask, the holes to poke, or the structures to create that give the videographer the direction, motivation, and "bowling alley bumpers" to keep expectations in line.
Also, if you have never worked with an in-house video team, there isn't really a quantity or quality baseline to shoot for. 
You may start feeling like things could be done better, but not have any clear idea how they could improve.
Here's how you can do better than I did.
Common problems you will encounter when managing a videographer
I'm not trying to use scare tactics when I say that there are a million ways for "managerial cracks" to start showing when working with your first in-house videographer. 
There is a wide range of pitfalls that can arise in the first year you work with an in-house videographer, but a few of the most common problem areas include:
Having no or few production quantity or quality metrics. 
Undefined or unclear responsibilities of "who does what" in terms of content .
The videographer having insufficient authority to get others to help with video creation, or build a culture of video. 
Where do these problems originate?
Generally speaking, the common problems of managing an in-house videographer derive from three broad categories of communication failure:
Failure to clearly define the videographer's job expectations during the hiring and onboarding processes.
Failure to appropriately separate and communicate roles throughout the video creation process.
Failure to properly position the videographer within the organization so that they (and their content) are successful.
Now, let's talk about what you should be doing as a manager to minimize the potential for issues to arise, based on these three "communication failures."
3 expert tips for successfully managing your videographer
So, how can you avoid my mistakes? It starts as before you even hire your new teammate. 
1. Set clear expectations
This is true for all employees, but especially creatives:
Operational and cultural expectations are malleable at the very beginning of the onboarding process, but the norms they will create will set in like concrete before you know it. 
What I'm saying is that if you want your videographer to do something regularly, you better tell them to do it explicitly before they become used to not doing it.
Setting clear role expectations for a videographer doesn't start during onboarding or even the interview. It starts with the job posting before the applicants apply.
The earlier that the expectations can be instilled, the easier it will be to achieve them. And I believe that there's no such thing as "too clear" or "too rigid" when it comes to defining expectations in a job posting. 
On the contrary, it's really refreshing and welcomed by creatives. It means that they don't have to assume or determine what's expected of them.
Role requirements that should be defined in the job description and reinforced throughout the hiring and onboarding processes include:
A specific quantity of videos to be completed on a weekly basis. At IMPACT, we train businesses on video marketing to produce and publish between two and three content marketing videos each week, using the They Ask, You Answer methodology.
The responsibility to maintain a rolling one- to two-month content publishing calendar that is accessible to the rest of the organization.
The responsibility of maintaining and optimizing videos online so that they are properly positioned for your audience.
The responsibility to educate the internal team about newly created content and how the rest of the organization can easily leverage the videos.
The responsibility to be the "owner" of the internal video creation process, production quality, and company-wide cultural adoption of producing and using video content.
In the interview process, these role responsibilities can be reinforced with interview questions like:
How would you expect a typical week's schedule to look that would allow you to produce and publish two to three videos each week?
To maintain two to three videos being published each week, how far out would you maintain a planned video publishing calendar?
How would you plan to get someone comfortable with and excited about being on camera who has never done any video work before?
How would you educate the rest of the organization about how to use new videos that could be leveraged in our sales process?
How could you make it easy for our sales team to use your videos in their email sales processes?
Finally, during the first week of onboarding, you should ask your videographer to:
Create the first video content calendar based on the videos you have chosen to prioritize. (Note: choosing which videos to prioritize is not the videographer's job).
Format the first two to three script templates based on articles or video ideas, as this is how many should consistently be created on a weekly basis to maintain the production calendar.
Meet with subject matter experts to start building rapport to support on-camera performance training.
Implement a method or process of maintaining videos to be used in the sales process, such as a Google Sheet or a Vidyard account.
Establish project-based performance metrics for the videographer's role, including the number of videos published, number of training sessions completed, number of scripts written, etc.
This responsibility reinforcement gives the videographer clear expectations of what will be expected of them and how they will be evaluated.
Generally speaking, many videographers have found ways to work for themselves in the past. 
They are creatives who could have picked up freelancing jobs on the side. They are project-focused, meaning they think in "bins" of video projects that they want to handle in a structured, standardized way.
2. Define specific responsibilities in the video creation process
Aside from role expectations being set, the failure to separate and communicate roles throughout the video creation process is the second biggest contributor to managerial problems with videographers.
This comes down to the importance of having a clearly defined video creation process, from ideation to the maintenance of published videos.
I've created a good "starting place" video creation process template to make sure that you're asking all the basic stuff; however, each company will have a different final creation process, so consider this to be 80% of what yours should include.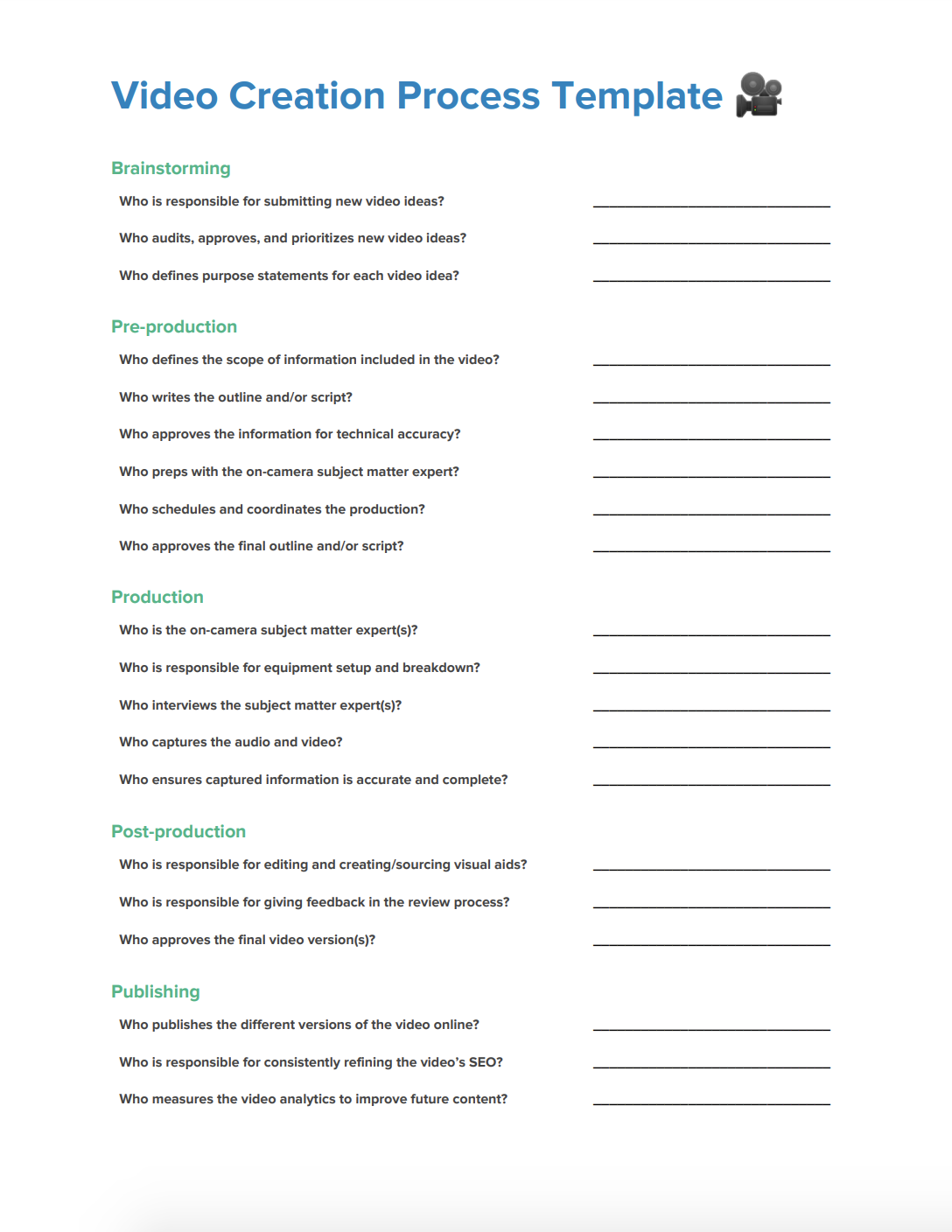 (Access the template here)
No matter what your checklist looks like, the key is to have a defined and documented process that the entire organization understands, with only one person responsible for any given step in the process.
It's important to keep in mind what the videographer should not be responsible for.
For example, video topic ideation and brainstorming should not fall on the videographer. Rather, content format ideation should be their focus. 
Successful videographers are given a hopper of video ideas and expert resources to go create a content calendar and script outlines from. They should not be deciding the overarching strategy, as they are almost never industry experts. 
Instead, the operations of the role are where the majority of their responsibilities should lie. 
Producing and publishing two to three videos per week is a full-time job. The videographer should be writing video scripts based on someone else's expertise. They should be planning shoots, building rapport with subject matter experts, editing, and optimizing existing content online. 
The major takeaway here is that when you are defining your video creation process responsibilities, keep in mind that the videographer will inherently be the bottleneck of the process. 
Recognize that fact, and do everything you can to relieve the videographer of the responsibilities in the process that either don't require their expertise or could be done better by someone else due to their industry experience.
And this leads well into the third managerial pitfall when managing a videographer, which is not giving their role the authority (or "teeth," as I like to say) that it deserves to do the job successfully.
3. Empower your videographer to create a culture of video
The last contributor to common managerial issues with videographers stems from the failure to position the videographer within the organization.
This involves giving the videographer the "teeth" they need to master their job and have the rest of the organization take the videographer (and video, in general) seriously.
The difficult part for in-house videographers is that, at a role-specific level, they are the only ones in the organization with "video production" at the top of their task list. 
However, they need help from other people in the organization to successfully complete their job. Unfortunately, it typically becomes the last thing to do on everyone else's lists.
This is when the videographer can start to feel like they're living on "video island" in your organization. 
They're the only ones who understand video production, they're "asking favors" of everyone else when they need help with something, and they feel like they're the only ones leading the inbound video charge. 
To help your videographer escape from "video island," you need to create a culture of video. A few prerequisites must be established in the organization:
The philosophy of inbound marketing must have buy-in from the top of the organization down to the bottom.
The organization must believe that video is the future of educating prospects and clients online. (Spoiler: it is).
The videographer must be seen as the "leader" of the organization's video adoption and should be given the authority in the organization to "own" the cultural adoption.
A content manager is typically positioned as the liaison between the marketing and sales department. The videographer should be doing the exact same thing.
Why? Because the vast majority of effective video ideas come from the sales team long before the marketing team thinks of them.
Also, sales team members are often the subject matter experts on camera, and they need to respect and like the videographer they are working with. They should be able to passively build rapport with one another.
The videographer also needs to have the subject matter experts close at hand as new video topic ideas enter pre-production. Sales team members are often their best resource to create the most effective scripts for future videos.
Ultimately, none of this cultural adoption can happen if the videographer's role is just seen as a niche rabbit hole of the marketing department that no one respects or even understands the purpose of. 

That's a recipe for video production feeling like a "summer program" with zero company-wide buy-in.
So, to properly manage a videographer, you must make sure they are seen as important, authoritative, and cross-departmental. 
They must be a leader, educator, and idea-seller.
Admittedly, successful execution of these requirements partially depends on the videographer's ability to be a charismatic leader with business acumen. They must have the ability to articulate ideas to leadership, as well as the sales and marketing teams.
However, it's up to the company's leadership to show the organization that they are serious about investing the needed time and money into video production. Properly managing a videographer means not casting them away on "video island," folks.
What to do first to properly manage an in-house videographer
There are a million ways for managerial cracks to form when managing an in-house videographer.
Cracks can occur due to ambiguous role expectations or performance metrics. They could be because of a vaguely defined video creation process with diluted responsibilities.
Or, it could be because the videographer is not given the cultural authority in the organization to successfully do their job with zero burnout.
Finally, it could be a little bit of everything.
If you're about to hire and/or start managing a videographer, I highly suggest:
Creating hyper-clear role deliverables and performance metrics, and then building them into the hiring and onboarding process.
Devising a written video creation process based on the above template.
Discussing with leadership how the videographer will be positioned in relation to the rest of the organization.
And, if you're already managing a videographer and are starting to notice these cracks forming — or aren't certain exactly how they're liking the job — then I highly suggest having an initial informal conversation with them based on what you learned in this article to see how they're feeling about everything.
Then, I recommend working with the videographer to define and create the above information for your own organization.
This is probably the first-time situation for both you and the videographer, and all I can say is that genuine candor goes a long way in starting or improving any professional relationship. 
Both of you are probably craving a little more professional communication.
You just have to be the one to start it. 


[ad_2]

Source link